The Ronettes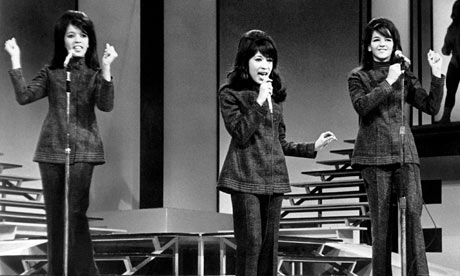 The Ronettes merupakan diantara sebuah kumpulan yang ternama pada zaman 1960an, yang berasal dari New York , AS. Mereka berjaya memasukkan lebih dari lapan lagu didalam carta Billboard Hot 100 pada masa itu, disertakan lima buah lagu yang menjadi Hit Top 40.
Anggota kumpulan ini ialah vokalis utamanya Vernica Bennet (Ronnie Spector), diikuti oleh kakaknya Estelle Bennet dan saudaranya Nedra Talley. Mereka berkecimpung didalam bidang nyanyian di usia remaja lagi, dengan nama kumpulan terawal mereka iaitu The Darling Sisters.
Lagu - lagu hit yang terbaik pernah dikeluarkan oleh mereka ialah, Be My Baby, Baby I Love You, Breakin' Up dan Walking In The Rain, dimana kesemua lagu ini berada di carta Billboard Hot 100. The Ronettes juga merupakan satu - satunya kumpulan nyanyian wanita pertama membuat tour bersama The Beatles.
Lagu pilihan kali ini ialah Be My Baby dari The Ronettes. Semoga terhibur.